Asia has over 8 million millionaires and it's rising trend significantly outpaces the global average. From 2011-2016, Asia's millionaires with investible assets of between USD 1 million to USD 5 million grow by 353.7%, and close to 90% of the millionaire population. These investment savvy, risk-adverse individuals are seeking performance and stable returns while rising interest rates bite into returns and the one- service- fits- all standard choices may not fit into what they are looking for.
As the market volatility takes some of the shine off the traditional fixed income investment instruments, FinEX Asia suggests investor explore consumer finance for stable returns.
While many of the world's largest asset managers have bought into the fundamentals of the consumer finance story, not everyone understands how to make alpha from it. Most mainstream houses are more comfortable with traditional bonds, equities, exchange- traded funds ("ETFs"), occasionally venturing into structured products.
FInEX Asia Investment Limited ("FinEX Asia"), a Hong Kong- based company, however, is comfortable with consumer finance. FinEX Asia has operated in this space over two years and manages over US$ 260 million fixed income portfolios allowing Asian investors to access the US consumer credit story- personal loans and credit cards receivables.
Consumer finance is attractive because it provides both diversified and stable returns, if the investors make the risk management right. FinEX Asia's appealing returns are already being notice, with FinEX Asia Marketplace Credit Fund targeting yield of 7-8% , well ahead of most fixed income indices. Returns from loan repayments are steady and preset, meaning they are of affected by the usual peaks and troughs of daily market fluctuations.
FinEX Asia Marketplace Credit Fund Performance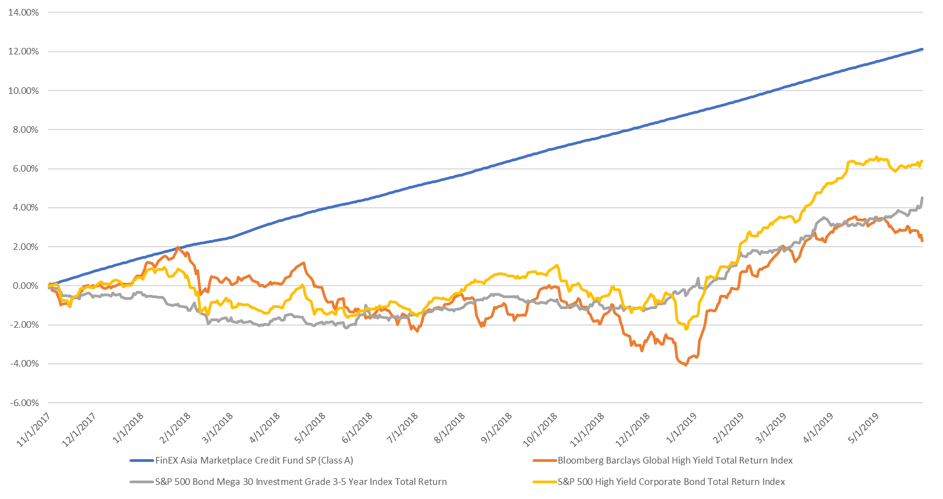 Source: FinEX Asia Investment Limited, as of May 2019
How does FinEX Asia manage to deliver such returns with less than 0.5% volatility in the portfolio? The key differentiator is the risk management model. FinEX Asia Marketplace Credit funds have more than 2500 loans and the date from the US market is gathered in real time, 24/7, with the help of technology. Applying technology in investment aggregation and risk profiling helps the asset manager to select good quality consumer loans without limitation of human capacity and much elevated good/bad separation lower. The technology empowered risk management helps the asset manager to sort through thousands of potential loans based upon consumer information and combines this with layers of local information such as state unemployment rates and local conditions. One of the key attraction of FinEX Asia is the capacity to predict losses. This compares favourably to the relative instability and sudden fluctuations seen on stock markets when they react to events, debt crisis, politics, trade wars, and geopolitical fallouts.
FinEX Asia Marketplace Credit Fund Volatility Comparison

Source: Bloomberg, FinEX Asia Investment Limited, as of April 2019
* Since Oct2017
Also, give all the investment process and payment waterfall are digitized, the cost of operation is significant reduced. It doesn't only help the investor to be able to invest with much smaller ticket size, but also help investor to gain liquidity. While most investors would be happy with the return of FinEX Asia fixed income fund, there are investors who have different investment appetite. Using 7-8% target return as the benchmark, there are some investors who are more aggressive while some are more conservative. FinEX Asia doesn't just create one- product- fit- all solution but we can tailor investors' different investment objectives by matching them on the platform. For those who seeks higher liquidity for around 1 or 3 month investment, they can give up part of their returns to award those who don't mind locking in the investment for longer period of time in exchange of higher returns. Investors with risk appetite could find themselves selecting products with different returns, durations, financial gearing while the underlying asset class may be the same.
FinEX Asia Marketplace Credit Fund was ranked 30 top performance 2018 in Bloomberg in alternative fixed income strategy.
Hedge Fund (Fixed Income Discretional) Ranking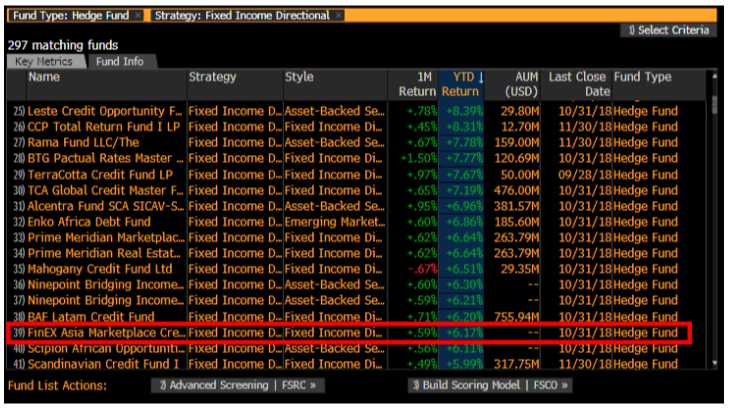 Source: Bloomberg, as of Oct 2018(the ranking starts with 11th)
Closed to 30% of the existing investors reinvested their investment on FinEX Asia platform within 6 months of subscription FinEX Asia fund. Over 80% of the investors have topped up their investment within 12 months of subscribing into FinEX Asia fund. With such strong testimonial to FinEX Asia's performance, you will not want to miss out this alpha opportunity.